I already wrote a tutorial about how to create
Snow Text Effect using Photoshop
back then, and today I want to share the
Snow Text Effect in Photoshop Action
with you.
Download the Snow Text Effect.ATN (9Kb) inside a WinRAR archive file.
Snow Text Effect.RAR (1.57Kb)



If you don't know what Photoshop Action is and how to install it, you can go to my previous tutorial post about Photoshop Action.

All you need to do is to dark background color (black, dark blue, etc.) and some text to edit on your new canvas.




Just remember to put them in separate layer, which are background layer and text layer.
Activate the text layer, and you may need to know that a new text layer by default will be labeled in the first word or character that you type inside the canvas area. In this example I type "ice" and the layer shows ice label after you click on it.




The next step is to rename that text layer with "snow" and rasterize type (right click on the layer text then click rasterize type).




Go to the action panel and play action selection after you load (install) the Snow Text Effect photoshop action in your hardisk.




Wait in few seconds until the process of editing is finished, and you will get this kind of result:
It is rather rough effect, isn't it? You can just edit it a little bit.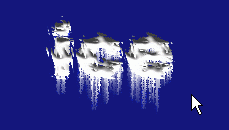 Go to the Tool Box and find Eraser Tool. Erase unwanted snows that melt down from the top to the bottom of the text as you wish.




The finished look would be like this: