Step 3
-
Finishing touch

Use Eraser tool to finish your main object which has clear background as good as you want. You can set the brush tip as you desired for this purpose (depend on how complicated your main object would be).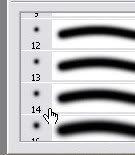 IMPORTANT TIPS
:
If you want a good result, choose a smooth tip brush rather than a sharp line brush, to create a natural edited image.

Adjust the opacity of this eraser tool before, because this also helps to create blending effect between the main object and its background.